Currency – Tanzanian Shilling / US Dollars – Visa upon arrival (UK citizen £40)
Climate – November – Hot with a cool breeze by the coast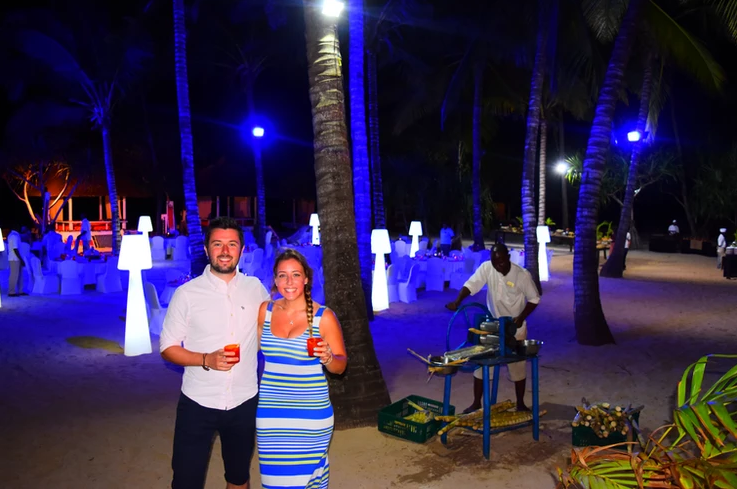 Dar es Salaam
Dar es Salaam is Tanzania's largest city with a population of 4.4 million people and is located on the countries Indian Ocean coastline, growing from what was originally a fishing village. Parts of the city has all the modern amenities of a western city and the traffic jams to go with it too, while maintaining a down-to-earth feel about it.

Upon arriving at the Julius Nyerere International Airport, after collecting luggage, there is no option but to embark on the mild-carnage that is obtaining a local Visa. After filling out personal details and handing over passports, cash and said form to an official in uniform who takes them to destination unknown, we joined the group of confused travellers for an undefined amount of time and hoped our passports were returned with a stamped Visa! After waiting for 25-30 minutes our passports were returned with visa stamps to their grateful owners and we were on our way.
Wonder Workshop, Oyster Bay
By day, Dar es Salaam has so much to offer and an absolute must for visitors is the Wonder Workshop on the edge of Oyster Bay. This relatively small and local one-off enterprise is a symbol of ingenuity and resourcefulness where scrap metal has been used to create a vast array of African animals of all shapes and sizes with a fantastic finish.

What's more all these magnificent artistic creations are made by people with physical limitations, offering everything from a Turtle an inch or two in size, all the way up to a six-foot Giraffe, Hippo or Crocodile which are all fabricated from all imaginable scrap metals including nuts & bolts, nails, springs & gears. Remember to consider how you will get your new artwork home!

In addition to the wonder workshop, this centre also has several other rustic outlets well worth visiting where it's possible to browse various authentic goods including food, souvenirs, essential oils, spices, and other fresh ingredients such as Baobab Powder.
The Slipway, Oyster Bay
This is Dar's premier waterfront shopping and leisure centre complete with views across Msasani Bay. It has all the modern amenities you could need including hotels, a bank, pharmacy, beauty salon, internet café, and travel agent, there's also a traditional souk market and bazaar to pick up some great souvenirs.

Children can play at the waterfront playground while adults drink sun-downers at one of the bars, then head to a restaurant for dinner. In terms of leisure there is a PADI dive centre taking divers to the best sites in the area, and from here you can jump on the small glass-bottom tender for the short journey across to the beautiful Bongoyo Island.
Bongoyo Island
Escape the city to a beautiful tropical island without travelling very far, Bongoyo Island has glorious sandy beaches with fantastic corals and sea life to explore by simply snorkelling straight off the beach. It is the first marine reserve in Tanzania and a beautiful place to relax, unwind and to explore.
Restaurants with a view:
–Sea Cliff Restaurant – Beautiful views across the Indian Ocean from a cliff-top position. Great food & drinks.
– Cape Town Fish Market – A seafood restaurant and bar with fantastic views across Msasani Bay.
– Hyatt Asian Restaurant – After dining in the tasty and beautifully decorated Asian restaurant, head up to the rooftop bar for drinks with a view across Dar and its port.
Saadani National Park
Located around three hours' drive north of Dar es Salaam, Saadani National Park is one of Tanzania's smaller parks and benefits from being less touristy and its beautiful sandy location on the coastline of the Indian Ocean – the only park in Tanzania to do so. The journey from Dar by road is quite straightforward (with the aid of satellite navigation!) and the road surface very good, although for the last hour of the drive you leave the asphalt behind and continue along a wide, flat dirt track (4WD advised) until reaching the monkey-covered bridge which marks the parks entrance. Alternatively, it is possible to reach the parks grassy airstrip by light aircraft.
Upon arrival at the park lodge each visitor must pay a small entrance fee 5000TSH (£1.65) per person plus 20,000TSH (£6.61) per vehicle per 24-hour period. Before heading into the park take a picture with the large collection of animal bones that have been collected and arranged outside.
Saadani Safari Lodge
As far as the National Parks go, Saadani has a more exclusive feel to it with lower visitor numbers and a small selection of park lodges and campsites to reside at during your visit. Upon arrival at Saadani Safari Lodge we were greeted with fresh coconut juice, a cool towel, a family of Vervet monkeys and an extremely relaxed and stress-free checking-in service.The complex is very traditional, wooden and rustic, settling beautifully into its bush-come-beach natural surroundings with very little impact on the natural area.
We were led to our very own beach-front lodge along the raised wooden walkways, each in its own private setting surrounded on three sides by vegetation but within a short walk of the pool, restaurant and reception. With a thatched roof, mesh-windows, a rainfall shower, a private deck, parasol and sun loungers on the sand, and views across the Indian Ocean, Moja was absolutely perfect!

When not out on safari you can relax by the pool, soak up the sun on the beach and take a dip in the sea by day and then head to the restaurant in the evening for a delicious dinner while surrounded by nature, while sitting down for dinner we were greeted by a Genet Cat and a Yellow-Headed Dwarf Gecko amongst other things…amazing! Before retreating to your lodge in the evening be sure to look up at the stars as the sky is incredibly clear.
Saadani River Safari
Saadani Safari Lodge has its very own fleet of 4WD safari vehicles which will take you to the Porokonya-Wami River Boat Safari Pier across the local scrubland and past a salt flat where you can see large flocks of pink Flamingos. The river safari itself is a 2-3 hour excursion along the Wami River and during this time we were lucky enough to see Hippo's, Crocodiles, Vultures, Hummingbirds and Lizards, with the boat to ourselves (and Captain of course!). This was such a memorable river safari.
Saadani Land Safari
For the highest possibility of seeing as many animals as possible before they retreat to shade during the heat of the day, the best time to explore on safari is early just after sunrise. We set off into the park and weren't disappointed, seeing Lions, Giraffe, Elephants, Buffalo, Monkeys, Monitor Lizards, Warthogs & Piglets, Vultures, all in the vast, open surrounding of their own natural environment, just the way it should be. It was also amazing to see the old and imposing Baobab Trees dotted around the park.
Kiwohede School – Bunju-B
Since 2013 we have been aware of this school through charity work we've been involved with, helping to help raise funds for Kiota (UK charity 1101316) who are a table top charity set up to support girls in Tanzania and are the sole supporter. After years of recycling at festivals to raise money and a group hiking challenge, we were both so humbled to actually be able to make a personal visit to the students at this incredible school.
These girls come from poverty-stricken backgrounds and would not be able to receive a secondary education were it not for the existence of Kiwohede, some have come from traumatic pasts and many are being saved from a devastating future. These girls were so full of smiles and every single student looked so genuinely thankful for the resources they had.

Tide Knot Travellers Tips and Facts– Watch out, Genet Cats will steal your leftover Birthday cake if given half a chance, but they are cute little food thieves.- Bring a sense of adventure when sleeping here, it's beautiful, but remote and surrounded by nature.- If you happen to stay in Moja, which has 2 single beds, and there is a thunderstorm in the night don't worry as it is just about possible to squeeze two people into one bed…as we found out! (Craig is scared of thunderstorms)- Kiota means 'nest' in Swahili. Pretty appropriate title given that the charity provides the funds for a safe haven for hundreds of Tanzanian girls at Kiwohede.
Zanzibar
Melia – A short 20-minute flight from Dar es Salaam on a light aircraft where we had front row seats to see all the beautiful views, brings you to the tropical paradise island that is Zanzibar and it is every bit as beautiful and luxurious as all the reviews suggest. We took a taxi ride to our hotel, the beautifully located Melia in Kiwengwa about 45 minutes' drive north-east of the airport. Upon arrival we were greeted by staff who took our bags and sat us down at the balcony overlooking the beautiful hotel grounds and pool, complete with a stunning view of the Indian ocean. In what was the most relaxed and luxurious check-in experience, the hotel staff booked us into our room and handled our luggage while we sipped on our fresh juice complete with a stunning frangipani flower.
We were led through some beautiful gardens to our room which was spacious with a four-poster bed draped beautifully to protect from mosquitoes at night. We had a standalone bath, Jack and Jill sinks and the option to shower in our own private open-air shower at the back of the bathroom. We had a terrace area with table and chairs which led out to gardens again filled with beautiful smelling frangipanis everywhere. Across the gardens took us straight to the pool overlooking the beautiful backdrop of the Indian ocean, we spent our days here relaxing with wonderful service from the staff bringing food and drinks over throughout the day.
Diving Mnemba Atoll – For the more adventurous this place is a must visit dive site. We were able to book a boat direct from our hotel and enjoyed two dives on the southern tip of Mnemba Atoll – a private tropical island that is part of the Zanzibar Archipelago. Mnemba Atoll is the most famous conservation area in Zanzibar and by comparison to many other dive experiences we would say that this site was one of the cleanest we have dived. You can also do some snorkelling or glass bottom boat trips out to here.
Stone Town – If you can drag yourself away from your sun lounger and the beautiful coastline views then Stone Town is definitely worth a visit for a real cultural experience. We took a private guided tour through the town (it's not entirely safe to just wander around alone) we saw the old slave market and visited the Anglican cathedral before walking through the fish markets and local shopping markets. Unlike in the resorts where you can lounge in swimwear, it is essential that women have their arms and legs covered when walking around Stone Town.
Back at Melia, a short walk from the pool through the gardens and set in its own tranquil area, is the entrance to the hotel spa which is simply beautiful with every attention to detail imaginable. The spa offers indulgent, relaxing treatments using Elemis products and has its own small relaxation infinity pool with views out across the Indian Ocean. Our couples' treatment consisted of a foot ritual, a herbal bath filled with frangipani's and served with detoxifying tea followed by a 90 minute full body massage side by side. A most sensual experience and way to spend time in the most romantic of locations on the planet.
Meals could be taken in any one of five restaurants spread out around the grounds of the resort and the variety of food on offer was vast and delicious! One evening per week Melia set up a beautiful outdoor dining experience on the beach amongst the palm trees, with shuttle buses taking guests the very short journey from the main hotel to their private beach. With freshly crushed sugarcane juice provided on arrival, fantastic fresh food and fantastic company, this was an experience not to be missed. However, the most memorable for us was the evening spent at the Jetty Restaurant which, as the title suggests, is out on a Jetty over the Indian Ocean. The food was Tapas style portions of international cuisine and the waiters sang Happy Birthday in Swahili for Kirsty's. Champagne on the sofas at the very end of the jetty was the perfect end to an evening of a very special dinner proposal – she said yes! Hence Tide Knot Travellers was born!
Tide Knot Travellers Tips & Facts
– If you're a nature lover, walking around the grounds in the evening you can hear bush babies in the trees. If you're quiet & look carefully you might get to see them
– There's a tuk tuk style vehicle that does shuttle runs back & forth to Melia's private beach with loungers & restaurant
– Once a week the resort invites their guests to attend a BBQ dinner on the beach, this was spectacular & such a unique experience not like a typical BBQ
– Mnemba Island is part of the Zanzibar archipelago & is a luxury private island, with diving trips that can be booked from Melia dive kiosk