Currency – US Dollars $
Climate – April/May – Tropical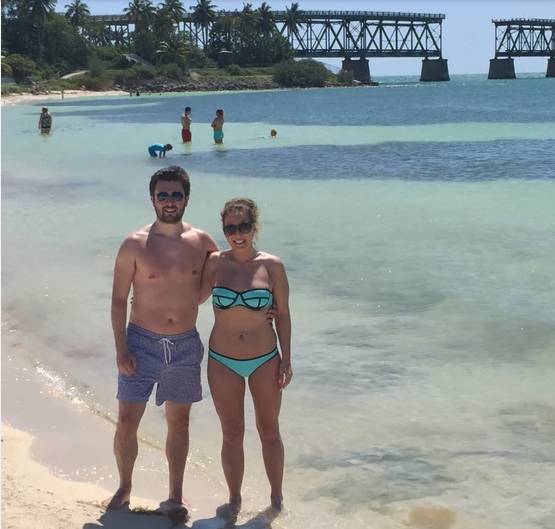 We landed at Miami airport early evening and picked up our hire car ready to head off for a week exploring the keys. Our first stop that night was in Key Largo where we stayed at the Pelican (approx 1-hour drive from Miami airport). When we arrived, it was dark and raining the kind of crazy rain Will Smith references in his song, "Yo I heard the rainstorms ain't nuttin' to mess wit!" He is not kidding, we got caught out again in one a few weeks later whilst walking to dinner, it's not just Miami that gets these storms the Keys get them too. Don't let the rainstorms put you off though as the saying goes, "If you don't like the weather in Florida, wait 5 minutes!" The rain dries up quick and the sun comes back out before you know it. We went straight to sleep as we were jetlagged.
Waking up and stepping out of our ground floor room the next day was like stepping straight into paradise, the sun was shining, tropical sounds of birds were all around with palm trees and a thatched, open breakfast kitchen area was just across from our room, it was self-service so we grabbed a bite to eat and soaked up the surroundings of our Al Fresco breakfast spot.

Sloping down from the breakfast area is a slipway to the beach, jetty and the bay which is appropriately named Sunset Cove. We strolled down and found some kayaks piled up for guests to use, we saw a small island with mangroves a few hundred metres offshore (turns out this little mangrove island was also a key – Pelican Key). Naturally we decided this was a great way to spend our first morning so we grabbed a double kayak and off we went, we had no idea that when we got there we would be so lucky to see a Manatee which was feeding on the mangrove, the Manatee swam straight underneath our kayaks before disappearing as they're naturally shy animals. We kayaked back and took a rest for the afternoon in the beautiful Floridian sunshine.

From the Pelican there is a restaurant called Snooks which is a two-minute walk away, you can hear the music from the resort jetty which was how we found it. We decided to go for dinner and drinks over at Snooks and check out the live music. The view overlooking Sunset Cove is just stunning and we watched the colours change as the sun set, and as day turns to night their jetty has under lights so you can stroll along and see all the sea life below the surface. All this in just the first day! We loved this spot in Key Largo, if you're headed that way be sure to get sundowner cocktails/dinner at Snooks… you won't regret it.

A trip to Key Largo would not be complete without a visit to John Pennekamp Marine National Park. We had visited on a previous trip and knew we wanted to return for another day on the reefs for some world class snorkelling in the Atlantic Ocean. We took a full day boat tour and made several stops seeing so many beautiful fish and took in the famous submerged Jesus Christ statue.
After a few nights in Key Largo we made our way along the Overseas Highway to explore more of the keys, we stopped at the Florida Keys Wild Bird Rehabilitation Centre on Tavernier to see Pelicans and a whole range of other incredible birds and wildlife. We then continued along the Overseas Highway stopping at Wahoo's Bar and Grill Restaurant for some of the freshest seafood and great views out across Whale Harbour Channel – highly recommend! A little further along the Ocean Highway we stopped at Robbie's Marina on Islamorada to feed the Giant Tarpon. Robbie's marina is a free stop off to visit although I think we paid $1 for a bucket of fish to feed the Tarpon but that's optional. These Giant Tarpon are huge! They can leap seriously high to get themselves a snack. Watch out for all the pelicans that are keen to get in on the action and after the free snacks.

Back on the road again, we made our way to Marathon which marks the halfway point along the Florida Keys, we spent one night here to explore locally including Sombrero Beach and Sunset Grille Restaurant. We had tactically planned this stop over so that the following day we could make the short drive to the stunning Bahia Honda State Park which is the longest stretch of sandy beach you will find in the Florida Keys. The views are beautiful especially with the old Bahia Honda rail bridge backdrop. This Key is full of outdoor activities both on land and in the water with plenty of nature trail walks and several beaches to just laze under the sun and swim – we spent the morning exploring the trails and sights and the afternoon lazing in the sun and sea.

After a few days of exploring the Keys we arrived in Key West where we stayed for four nights. There is so much to see and do here! Our hotel was on the eastern edge of Key West and provided complimentary bikes so as usual we made good use of the hotels offerings and cycled into town. We had to stop several times to let the chickens cross the road (seriously it's a thing it happens a lot!) They have right of way in Key West and there's a lot of them happily strolling around the place. We visited the mile zero monument for pictures – this is the southernmost point in Continental USA and is a popular spot for tourists to get a picture. Continuingon the bikes we cycled along the coastline towards the main town and visited the Eco-Discovery Centre before heading to Fort Zachary Taylor State Park Beach to soak up some more sun on the beach.

Being surrounded by crystal clear, tropical waters it would be criminal not to spend plenty of time in the sea so we booked on to a day-long boat excursion with Fury and spent a day snorkelling with Stingrays, Nurse Sharks and an abundance of tropical fish. That evening we freshened up and made our way to Mallory Square for the sunset festival that take place every evening. There's plenty of entertainment including street performers and market stalls and everyone gathers and cheers as the sun goes down over the sea, it's the place to be.For those looking for some nightlife in Key West, head to Duval Street which has plenty to offer and is where everyone spends their nights out. We had dinner at the Hard Rock Café and sat outside on the staggered decking listening to live music. Then we walked along this famous street hitting the bars, of which there are plenty to choose from. The Duval Crawl has something for everyone including a tiny bar called Smallest Bar in Key West with just four bar stools that has been a famous hot spot for years.

The weather in the Florida Keys and Key West is usually beautifully sunny and warm with the occasional shower no more than a brief blip – we did however have one full day of tropical rain which was a complete washout! Desperately on the lookout for indoor activities, we took the Conch Tour Train around Key West to take in the sights and history, visited the Key West Aquarium to get acquainted with the sea life and tick off the main Key West bucket list item – visit a bakery and eat Key Lime Pie!

After four days in Key West we drove back up the Overseas Highway and stopped off for the night at the Hampton Inn Key Largo, we were greeted at our car the next morning by huge iguanas, there was one chilling under our car whose tail we could see sticking out from underneath, luckily we were able to safely lure him out by throwing some fruit nearby. then we squeezed in another day of snorkelling on a boat trip at John Pennekamp before we left for Miami to join a cruise around the Eastern Caribbean.

Driving the Florida Keys is one of the most beautiful drives we've ever done and if you love the ocean like we do then this is a must – there are spectacular ocean views on either side of the highway as you drive between the numerous Keys which each have their individual characteristics and things going on. This trip is not just about the destinations, but the journey itself.
Tide Knot Travellers Tips & Facts
– It's possible to drive directly from Miami over Highway One to Key West in about 3-4 hours, but if you have the time spend a few days enjoying the scenery of the overseas highway & exploring a few Keys en route
– Although the Keys are toll-free, there are tolls between Miami & Key Largo on the mainland & these continue north along the Florida Turnpike – get yourself a sun pass with your hire car & save money
– Bahia Honda State Park – possesses such natural beauty & is great for the outdoor lover with stunning beaches, nature trails & other outdoor activities
– Wahoo's Bar & Grill – great food in a great setting with fantastic views
– Craig Key – tiny key but has a great name