Currency – Euro €
Climate – September – Sunny, bring shades & light jacket for the evenings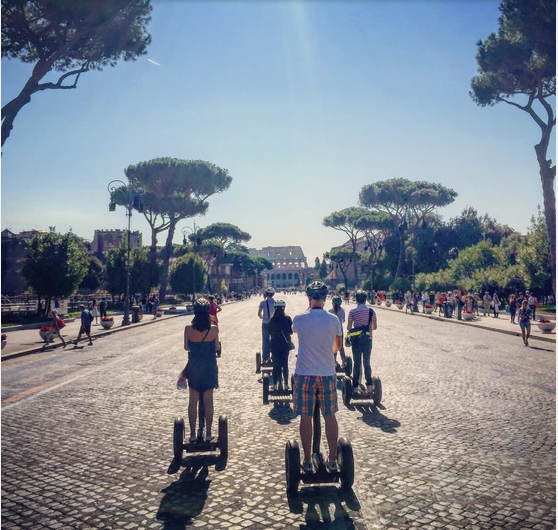 Visiting Rome had long been high on the bucket list having seen and heard so much of the history and beauty of the eternal city. Being the fourth most populous city in the European Union and a magnet for travellers from around the World, we opted to visit in September to avoid the masses and we find city visits are always more bearable temperature-wise outside of peak summer months.

We arrived at Fiumicino airport with no onward transfer booked and easily found a very reasonably-priced company to take us and some other travellers directly to our accommodation on the outskirts of the city. For this trip we decided to stay at Camping Village Roma on the west side of the city in Municipo XIII, a 10-minute metro journey from the centre and 25-minute car ride from Fiumicino airport. Camping Village Roma had recently installed some new Center Parcs-style modern and spacious cabins which were the perfect cost-effective retreat for our city trip, the village also offers plenty of amenities including a restaurant, bar, mini-superstore and swimming pool to name a few.

We arrived in the centre of Rome early on the Saturday to a stunning view across to Piazza Venezia and along the Stone Pine-lined Via Dei Fori Imperiali, with the Roman Forum and the Colosseum in sight on a beautiful sunny morning…as first impressions go it was pretty spectacular. The early arrival was for a pre-booked Segway tour of the city which was worth every penny and we can't recommend it highly enough – our very knowledgeable guide began the tour with a 30 minutes session to get used to using the Segway's in a spacious area before making our way from Piazza Venezia to the Colosseum and on to Circo Massimo, Piazza Dei Cavalieri Di Malta, the Roman Forum, Campidoglio and back to Piazza Venezia.

Segway's were a fantastic way to cover a lot of ground and see so much in a relatively short period of time and our guide, Gabriella, was extremely informative making several stops along the route to tell us stories, bringing each attraction to life. The Knights of Malta Keyhole was particularly spectacular – looking through the keyhole of the gate to Villa Malta it was possible to see the copper-green dome of St Peters Basilica along a garden alley lined by clipped Cypress Trees, as if perfectly framed like a photo.
After refuelling with pizza and pasta back at our accommodation, and a well-earned night sleep we headed back to our nearest metro station Cornelia for another day of exploration! The metro in Rome is simplistic and efficient and a great way to get around quickly and easily. We had purchased tickets on our first day (highly recommend booking in advance!) to visit the Vatican Museum and St Peter's Basilica so we made our way straight there to meet our entry time and join the unavoidable queues. We made our way through the Museum taking in the impressive and historical artwork, sculptures, architecture and artefacts – it is possible to spend a day or two in the Museum alone – with the tour ending with the sight everyone really came to see, The Sistine Chapel and Michelangelo's renaissance frescoes.

From the Museum we made our way to the largest church in the World…Basilica St Pietro. The scale and architecture alone are impressive, add to this the artwork and immense history and its clear for all to see what all the hype is about. Inside St Peter's there is a hidden staircase which takes you to a viewing walkway which wraps around the buildings large dome, providing 360 degree views out across Vatican City and Rome.
We then left Vatican City heading along Via della Conciliazione and treated ourselves to a huge gelato for a refreshing break from the Italian City heat. We wandered and took in Castel Sant'Angelo, Ponte Sant'Angelo, through Piazza Navona and on to the imposing Pantheon, the Trevi Fountain which was unfortunately undergoing renovation works at the time but it was still possible to appreciate its beauty, and on to the Spanish Steps, stopping for food and coffee en route.

After spending so many hours on our feet we jumped on a City Sightseeing Roma bus tour with some food to re-energise ourselves. City bus tours have been a favourite of ours from previous city breaks and are a great way to continue exploring new parts of the city and cover lots of ground once you've expended all your energy! Its relatively cheap and the on-board audio tour teaches a lot about all aspects of the city.

On our final day in Rome we used our pre-booked tickets to look around Italy's most popular attraction – the Roman Colosseum. Inaugurated in AD80, the 50,000-seater amphitheatre was built as an arena to host games that involved Gladiators fighting each other or wild animals…or both. With the tiered seating and complex underground network of chambers there are so many areas of this ancient monument to explore and so much history to take in – the Colosseum certainly doesn't disappoint and should be top of any visitor's to-do list.
Tide Knot Travellers Tips & Facts
– Omnia Card: A very cost-effective way to get around Rome if regularly using public transport over a number of days. Can even be used on the sightseeing buses
– Segway Tours: Cannot recommend these highly enough – everyone was asking us where we got them from/if they could have a go. Fantastic way to see so much & the guides are hugely knowledgeable & friendly
– Camping Village Roma Cabins: New, clean, spacious & comfortable cabins with their own decking area – cost-effective accommodation very close to the centre of Rome with the added benefits of an outdoor pool, restaurants & other facilities