Currency – Euro €
Climate – June – Bring shades & enjoy balmy 20-30 degree heat in summer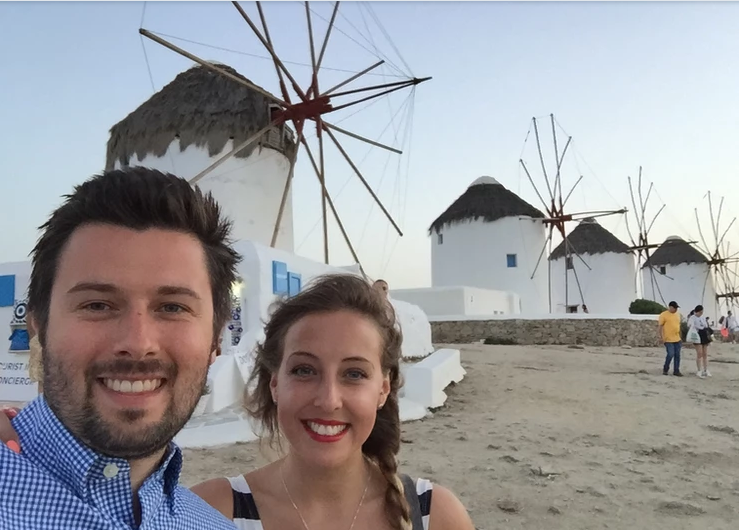 We love being next to or in the sea and had long intended to become qualified divers – luckily for me my amazing Wife had planned to take us to this beautiful little Greek island to gain our PADI Open Water qualification as a celebration for my 30th Birthday.
As we came in to land over the Aegean Sea on a hot and sunny July afternoon our first impression of Mykonos was how rugged and scorched it appeared, there are large rocky outcrops and little in the way of trees and lush green vegetation – it felt like an island version of somewhere in Arizona.

The island is part of the Cyclades group and is only 105 square kilometres in size with Mykonos Town in the west and open countryside and secluded beaches characterising the remainder. We made the short journey from the airport to our quintessentially Greek hotel – Hotel Kamari – with its whitewashed exterior and stone-paved pathways. It has a lovely pool backed by some imposing rock formations and is perfectly located a short walk up the hill from Narayan's Beach where you'll find a selection of restaurants, bars and cafés right on the beach. We visited the Blue Myth restaurant twice during our trip as the food and the staff were so incredibly friendly and welcoming, they were all dancing around the tables and entertaining everyone during dinner.

We chilled for the first afternoon and slept after having a really early flight. The following day we were straight into our four-day PADI course so we hired a quad bike to get around for the week; this was perfect for this little island as it has a small space for storage under the seat, it's nice and stable for two people to be on comfortably and small enough to weave in and out of small roads and easily park in the busy little town of Mykonos.
The next morning we jumped on our quad bike for the ten minute journey to Paradise Beach in the next bay to start our course at Mykonos Diving Centre and upon arrival we were greeted by the owner Costas and introduced to our fabulous Aussie dive instructor, Robyn. The course was nicely split into a mix of theory and practical with half day spent in the class and half in the sea. Our experience at this dive school was fantastic, the instructors were all so friendly, fun and relaxed. After 4 days it felt like we'd known them all for months.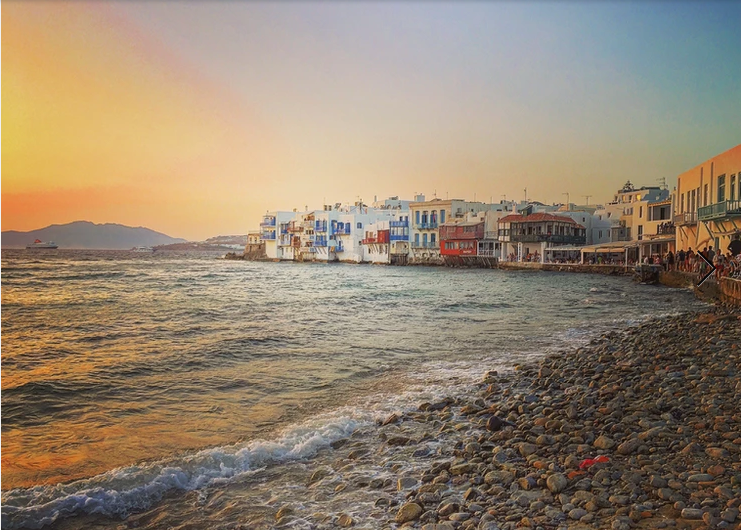 As a new diver, diving around Mykonos is idyllic with its crystal-clear waters which were a lovely temperature in June around 22 degrees celcius, and whilst the Mediterranean is not teaming with life like the tropics it does still offer plenty of marine life to see and makes it all the more rewarding if you do come across a Turtle or shoal of Barracuda. Just off Paradise Beach there is an 80m long shelf which has created a perfect reef to explore providing home for a variety of fish and other marine life and the ideal environment to perfect those practical diving skills.

After we got our Padi open water qualifications under our belt we took a break from diving and spent the rest of the week exploring above sea! After a day of sunbathing by the pool we took our quad bike over to Mykonos Town and parked it up in a tiny side street. Mykonos has four iconic 16th Century windmills perched on top of a hill overlooking the town and bay, this is a perfect spot to get some great pictures and just enjoy the sunset before heading over to the beautifully preserved narrow streets with an array of shops and restaurants.

What struck us most when walking around is how much love and care the locals put into keeping the buildings and walkways maintained to such a high standard with all the cute white walls lined with striking Bougainvillea and contrasting blue doors, shutters and roofs.Little Venice which is perched right up next to the sea, is busy but so worth a wait for a table with a view as we managed dinner over looking the beautiful sea that we had just spent days exploring, the cutest tables and sea views we found were at Katerinas restaurant and cocktail bar which served a wide range of delicious food and drinks.

The quaint restaurants are all lovingly decorated and have a real family run feel and the locals are so welcoming as you enjoy dinner/drinks in your own little space with romantic ocean views. Ristorante casa di Giorgio is a great restaurant for Italian food lovers in this part of town too, the setting we had there was more tranquil than the Italian over in Narayan's beach but both were lovely meals with two completely different vibes.
Tide Knot Travellers Tips & Facts
– Quad bike or the tiniest car you can get is best for these streets
– Mykonos Town is a designated UNESCO World Heritage Site