Currency – Hong Kong Dollars
Climate – November – mild & pleasant in the day but jackets required in the evenings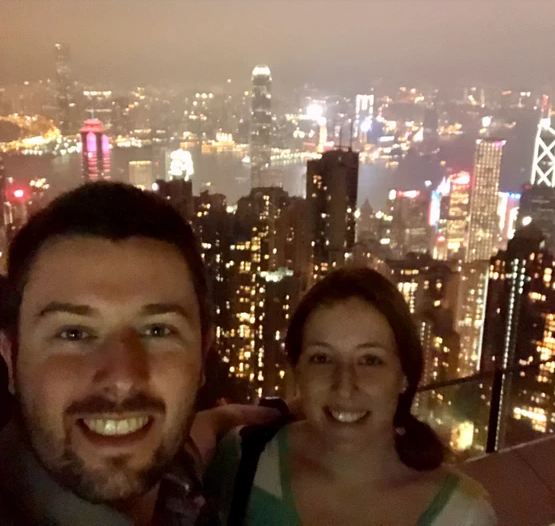 We spent a few days exploring this incredibly diverse city and we did not sit still from the second we arrived to the second we left. We were lucky enough to use air miles to get us from the UK to Hong Kong and we booked to stay in an Airbnb so this was a really budget trip as far as travel and accommodation goes. Arriving early evening, from the airport we took the train into Hong Kong and then used the tube to get to our destination, the very first tube I stepped onto, I looked behind me and Craig was stuck on the platform still. Travelling fail before we even got to our accommodation, luckily we have a rule that if that happens the person on the train is to get off at the next stop and stay there and the other person is to get on the next train in the exact same spot and then we'll meet at the next station, it always works for us and I got back on the next train where Craig had managed to get on so we were only separated for a few minutes.

We found our Airbnb which was a tiny room on the 9 floor of a multipurpose building in Tsim Sha Tsui, we took a tiny overcrowded lift to our floor where we entered a code we had been sent to let us into a room, here we found our room key with our name attached, we got our room key then found our room. It was small, but clean and we had to live out of our bags then put them under the bed as there was no space but we did not plan on being in this room much anyway and the location was perfect.

We walked from our accommodation to find some dinner, Tsim Sha Tsui is a great location for food lovers so we didn't struggle to find restaurants. There is a lot of great Asian food available as you'd expect, but we were surprised to see so many restaurants with such variety, some areas it felt like you could be in a Western part of the world with burger bars and pub type places around. We're always keen to get a great view from high up in a city like this so after dinner we took ourselves to Ozone at the top of the Ritz Carlton where we had amazing night time views overlooking Victoria harbour across to Central.
The next day we got up super early and made our way over to the Tsim Sha Tsui East promenade in Kowloon, walking along the Avenue of Stars and looking across the bay to Central. We then took the Star ferry across to Central to find us some free views of the city, we made our way up to the 46th floor of the Central Plaza, Wan Chai. This was an incredible view of the city and it is a business building so you can just go straight up for free and walk the entire way round giving a panoramic view overlooking Victoria Harbour, surrounding sky scrapers and over to Tsim Sha Tsui.

Afterwards we strolled around the streets looking at all the skyscrapers, this city is really built up into the sky, we wondered what life must be like living in a tiny apartment in these huge buildings, some look really luxurious and some looked very bare and the rickety looking bamboo scaffolding with workmen standing so casually is quite nerve racking to see. We did a bit of shopping and grabbed some lunch on the go whilst we strolled around Hong Kong park. Whilst we were in Central we decided to make our way over towards Victoria Peak and took the Peak tram up to the top, we made it there just before sundown so we got to see the city in the day and into the night (the night time view is amazing) due to the time of year we went, there were sky scraper buildings with Christmas lights which made the view even more spectacular. By the time we came down from Victoria Peak we were so hungry and grabbed some dinner before heading over to the flagship DJI store before it closed at 10pm, seemed like a pretty good place to buy our first drone.

The next day we took things at a slower pace and after breakfast in Tsim Sha Tsui we wandered around Nan Lian garden in Diamond Hill, this Chinese classical garden is perfectly manicured and you cannot eat or drink whilst in this garden as it is forbidden. They are very strict on this due to managing the delicate eco-system. The garden is designed in the Tang Dynasty- style with little hills, bridges, trees, ponds filled with coy carp and Chinese style wooden structures. That afternoon we rode Ding Dings which is the Hong Kong tram, it's a really fun way to see this city especially when your legs are feeling tired. These narrow double decker trams look and feel a bit like how I imagine it'd feel being on the night bus from Harry Potter and the Prisoner of Azkaban, not that they had beds or anything just that they're so narrow looking and whizz around so quickly it's a fun experience. Being on the trams gives a great opportunity to really look up as you travel around this busy metropolis.

We did some more shopping before heading out for dinner and drinks with skyscraper views over the city at Sugar, this time we had night time city views in Central overlooking Tsim Sha Tsui, it was a great way to end a busy couple of days. Our flight was early the next morning and we were about to make our second travel mistake in this city, we made our way down to the street with all our bags packed ready to jump on the metro only to find our station didn't open until 6am and it was only 5.15am, we wouldn't have made it to the airport in time if we waited that long to start the journey there. I prayed that this city had Ubers at this time of day and ran back into our Airbnb building leaving Craig on the deserted early morning street with all our bags so that I could go up to the 9th floor use the wifi, order an Uber and get back down in time to jump in the Uber, it worked! We made it and did not miss our flight to the Philippines.
Tide Knot Travellers Tips & Facts
– The metro stations are not all 24 hours so if you're relying on them, check the timetable of your station- Sailing from Tsim Sha Tsui to Central on the Star Ferry is beautiful, make sure you do the trip that way around- Ding Dings are the most economical & greenest way to travel around Hong Kong, they travel from East to West along Hong Kong Island- Travelling around this city on the ferry or the Ding Dings, you get a real feel for the History of this city, these modes of transport have been in place for over a hundred years (Ferry 1880 & Ding Dings 1904)