Currency – Euros
Climate – May/June – Changeable: bring swimwear & a rain mac!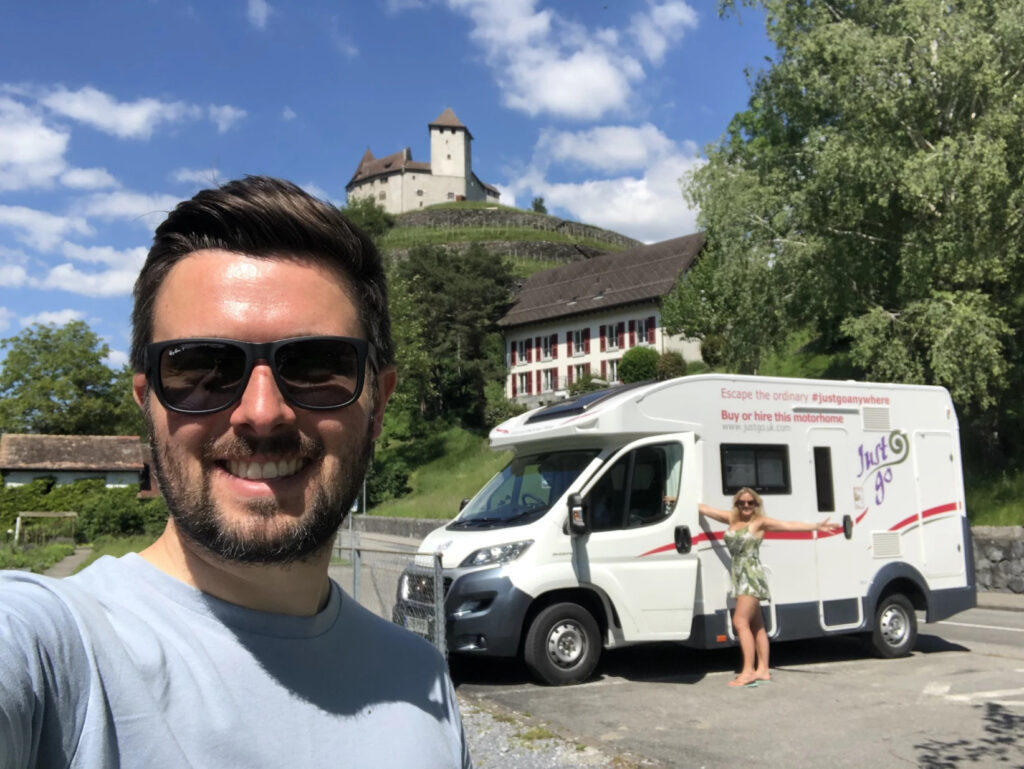 Italy (Tuscany/Sorrento, Pompeii/San Marino/Venice/Dolomites) – Lichtenstein – Germany (Bavaria/Neuschwanstein) – Luxembourg
We discovered a company in the UK that buys brand new campervans that are made in a factory in Tuscany, they rent them out and then sell them on second hand. Every year they order hundreds of these new vans from Tuscany and they need people to kindly drive them back to the UK for them. There is some cost involved but the deal is pretty good, we took a one way flight to Pisa, picked up the brand new van from the factory in Tuscany and spent the next 2.5 weeks touring Italy and Europe as we made our way back to the UK and dropped the van back, you can choose the amount of time you want it, you pay a small amount for it but it's less than half the price if you were to actually rent a campervan. They also pay for one drivers' insurance and paid our ferry crossing from France to England, all in all it's a great way to see a lot under your own steam. We have never driven a camper van before and there's only 2 of us so we picked the smallest grade of van called the Rainbow, it was small but perfectly formed.
Pisa
Italy is so well set up for campervans there are great parking spots right on the edges of most of the main cities, we drove into Pisa the day we picked up the van and paid 5euros to park the van in the Pisa city car park which was walking distance to the leaning tower. We could've paid 12euros to stay in that car park overnight (24 hours) in our vans but we already had a place booked near Florence so we drove there that evening after exploring Pisa. You don't need long in Pisa as it's not the biggest place, we found a day was plenty to see it, we arrived at lunchtime and walked to the centre, where we went inside the Duomo, climbed the leaning Tower of Pisa, took the obligatory photos of the tower, wandered around a bit and had pasta in one of the restaurants watching the sunset go behind the leaning Tower.
Florence
The campsite we were in was a short bus ride to the centre so we got in around 10am and spent the day exploring Florence, much like all Italian cities Florence has charming narrow streets and a beautiful Duomo and Bell tower which we climbed, again like the leaning tower of Pisa there are a lot of steps to the top. There's some great restaurants surrounding the bell tower to stop for a coffee but of course prices here are higher so if you're on a budget maybe just grab a coffee here but eat away from the main area. The day we were in Florence there happened to be a car festival going on so there were hundreds of really cool retro cars being driven through the centre after a 1000 mile journey (we only know this because there were flags everywhere saying 1000 miglia so we Googled it). Florence is a beautiful city to meander around, take in the sights, the history and the coffee! On the local bus back to our campsite we even started a game of 'bus ball' with a small ball that was rolling around the floor of the bus, the locals joined in and we had an England vs Italy match all the way back to our stop.
Siena
We left our campsites and drove the van to a camper friendly parking lot just outside Siena, we began the walk in and a huge rain storm appeared causing us to admit defeat and run into the cutest little coffee shop called Blandis café and wine bar, any excuse for a coffee break, even at the very start of the day, the pastries in this place were insanely good. We waited for the storm to pass before walking up the hilly streets into Siena which began with small winding streets then opened up into the huge Piazza Del Campo, this is a huge sloping piazza where the paving is made up of 9 sectors each representing the members of the Consiglio (council). The Palazzo Pubblico which is situated in the Piazza Del Campo and is the main focal point represents the wealth and independence of Siena. Wandering around the streets in the rain there was so much history to see and read about and as with all Italian cities Siena has a majestic Duomo of medieval architecture. We had lunch in the main piazza area watching another rainstorm pass over before heading back to the campervan and onto our next campsite.
Saturnia & the Natural Springs
After our visit to Siena we drove 3 hours South to Saturnia, this is a small very local Italian province and our main reason for the visit was to bathe in the beautiful natural springs which are simply stunning. It is completely free to use the springs and the pools of water are so warm and full of natural minerals that are great for the skin. We found a nearby campsite and got a good nights sleep before waking up and taking a walk to the springs where we spent hours relaxing the next day. Even though the heavens opened and it poured with rain we were so warm in the natural spring water.
The walk back was not so warm, thankfully we got to have a lovely warm shower in our cute Rainbow campervan. Then we headed into Saturnia for the evening to check out the local area, it is not a very touristy place so it was a great opportunity to meet some locals and get a feel for real Italian life here. We stumbled upon a cheese and wine festival that was happening right in the centre, we paid 10euros each and they gave us a glass and holder that hangs around your neck and 10 vouchers to try the different wines, the cheese is handed out in samples for free. It was so good, too good! We had way more than our 10 vouchers worth as we got chatting to people and they just kept topping us up! We bought a few bottles to take back to the campervan along with some freebies as we stayed until the end. We made it into one of the restaurants just before they were closing and managed to grab some pizza before heading back to the van, we needed some carbs to balance out that alcohol.
Sorrento & Capri
The next day we began the long drive down to Sorrento, this was a full travel day, the drive is about 5 hours but in a campervan, it took about 7 hours. We had found a few campsites that were perched near the top of Sorrento, we chose one and decided to base the van here for 4-5 nights to explore Naples. It was early evening by the time we arrived so we decided to stretch our legs after all the driving and strolled down into Sorrento for some dinner, we took a walk around the tiny streets and were amazed at all the lemons, pastel coloured fashion stores and cute market stalls. We figured out a plan for the next few days having got our bearings.
The next morning we got up early and headed down to the port to get the boat over to Capri, although we managed to accidently lock ourselves out of our campervan just as we left that morning! Luckily the campsite had a handyman that helped us access one of the windows and then our German neighbours were very helpful and helped Craig climb through the window of our van to retrieve the keys, lesson learnt! So we made it across to Capri (a little later than originally planned) the boat ride over from Sorrento to Capri was so beautiful the scenery and dramatic cliff edges of Naples is simply stunning. I should mention we had been having fairly cold, rainy weather for most of the trip up until this point so arriving into Naples was like arriving into summer.
Once we arrived off the boat in Capri we took the funicular along with herds of tourists doing the same thing to get to the shops and views, the views are beautiful but we are not the biggest fans of busy crowded areas, so we decided to grab some lunch, look around a few shops and then head off for a walk back down rather than get back on the funicular. Having done this I would highly recommend, it was way more scenic, the huge lemons growing on trees at the back of peoples' yards with stunning sea views the entire way, who wouldn't want to walk that?
The best bit about it was that there were hardly any other people around on the walk but the sign posts were really clear making it easy to walk back to the correct port for our boat (although we did help out some lost tourists who had managed to go the wrong way and got them back on the right track for the port they needed!) We got our boat back to Sorrento and went for a swim in the sea and had cocktails at one of the swanky bars along the jetty, it was the perfect way to cool off after the busy streets of Capri and the long walk back down to the port.
Positano & the Amalfi Coast
The next morning we walked to the scooter hire place we had spotted and got ourselves a scooter as a way to get ourselves in and out of the tiny streets of Naples without having to pile onto bus tours and stick to set times. Sure we could've gotten a Vesper and taken some really cool poses with it but we're not that cool and we didn't want to pay nearly double for the privilege, so we both hopped on one scooter and headed off along the winding roads overlooking the stunning Amalfi coast; we had sunshine a scooter and the sea.
Our first destination was Positano – 30 mins by scooter from Sorrento – which is such a beautiful place where all the inhabitants really are just piled up onto the cliff edge overlooking the coastline, it is so colourful and picturesque seeing all the Mediterranean pastel coloured buildings facing out over the sea. The tiny streets are not made for buses (or even cars really!) so most are dropped off all in one place. We were thankful to be on a scooter and managed to find a tiny parking lot for scooters to safely leave it whilst we wandered around Positano and found a spot for lunch right on the beachfront. It's a beautiful place to be but again it's only a tiny place so after a bit of wandering around the streets and strolling along with our toes in the sand and sea, we headed back to our scooter and travelled another 45 minutes along the southern side of the Sorrento peninsula, this is honestly one of the most scenic journeys you could ever take.
We arrived in Amalfi early afternoon – 45 minutes on the scooter from Positano – and found a little spot to leave the scooter for free, we headed into the main piazza to take a look at the cathedral and enjoy some gelato in the sunshine watching this tiny but oh so busy little maritime province. The steps leading up to the spectacular cathedral create and create such a grand feel that your eyes are drawn straight to this incredible building, whilst we were there we witnessed a photoshoot going on with girls wearing matching beautiful pastel coloured dresses all spread out along these huge steps leading to the cathedral. We walked up the steps and enjoyed the outlook over the busy little piazzas below before heading back to our scooter to make the 1 hour journey back to Sorrento during golden hour, that's right we timed it so that we could journey back along the Amalfi coast, sharing a scooter and watching the sun go down all at the same time, what a dreamy way to end a beautiful day of exploring beautiful places.
Pompeii & Vesuvius
We left our campsite in Sorrento after being based there for a few days and drove the van over to Pompeii there's a great car park/campsite to park up near to where the buses take you over to Vesuvius. We booked ourselves onto the Vesuvius bus tour from the ticket office right next to the train station and were on a bus by 10.30am. We headed up on the bus to Vesuvius where the bus drops you and you can walk up to the summit of the volcano and see the panoramic views of Naples from it's crater, you can even grab a traditional Italian coffee from the little shack like café near the top. There are 9 different nature walks that surround Vesuvius but our intention was to make our way back down and visit the ruins of Pompeii. We were back down from Vesuvius by lunchtime and the beauty of having the campervan right there in the car park meant we could go back there for lunch and to freshen up.
We then walked straight over into the entrance to Pompeii where we paid the entrance fee and spent the rest of the day walking around and learning how this incredible city had been destroyed by the eruption of Vesuvius and rebuilt multiple times. We were both blown away by the whole experience of seeing what Vesuvius had done and what the people had done each time to recover. The history of Pompeii is truly fascinating and the archaeological ruins were so moving to see, everything from the ruins of houses, shops, temples, brothels and even a huge amphitheatre, it was like a smaller version of the colosseum in Rome although still a huge amphitheatre, Pink Floyd actually did a one off gig here back in 2016. As you walk around the city of Pompeii every now and then you get a perfect view of Vesuvius looking tall and imposing which reminds you of it's power and the reason the excavated city of Pompeii looks the way it does.
After a lot of steps in one day we decided to spend the evening driving the campervan to help break up our next leg of the journey, we showered at the campsite before heading off for our first night of wild camping along the road in Avezzano, after about 3-4 hours of driving we pulled the van over and slept there for the night before waking up early, grabbing breakfast from the nearby supermarket and heading North.
San Marino
We spent the next morning driving for just over 5 hours and eventually made our way up to San Marino and although San Marino is a whole other country it felt like another world being there. This microstate up in the mountains is surrounded by Italy but has a very distinctly different feel. The residents here are very friendly and very proud of their country and so they should be, it has panoramic views that look over North-Central Italy and the standards of living here for the locals is very high, the cobbled streets are perfectly kept with quaint houses and shops.
There are walkways between the main shopping and tourist areas over towards the three towers which are castle-like citadels. It was pretty windy when we did this walk but so worth it, it felt like we were in some medieval movie set. We enjoyed dinner with views of San Marino and we were lucky enough to be treated to a mini airshow as 3 small aircrafts practised their skills up in this mountainous microstate. After dinner we began walking down towards our campervan (walking down involves taking several lifts and stairways to get to a place that a campervan can safely get to) but instead we stumbled across a street party that was taking place after a running event, there was live music in the street so we stopped off to join in before heading back down to our campervan for the night.
Venice
The next day we woke up and headed for Venice which took another 4-5 hours of driving to reach in the campervan, we booked a campsite just outside of the centre of Venice and took a short bus ride to get in. We arrived early afternoon and took the water taxi over to Belmond Hotel Cipriani to celebrate our 1st wedding anniversary in style. We chose to eat here based on the recommendation of our Italian wedding planner, thank you Francesca! This hotel is amazing and has an array of A list celebrities that frequent the hotel from Tom Hanks, Julia Roberts, Daniel Craig and many more.
The hotel has it's own boat for guests so after an amazing 3 courses we took the boat over to Piazza San Marco where we strolled our way over to Caffe Florian and enjoyed drinks with the live Orchestra that plays there every evening out in the Piazza. I highly recommend Caffe Florian for evening drinks when in Venice, it's pricey but worth treating yourself to the experience, there's something really magical about sitting there in such a romantic place full of incredible architecture with a live orchestra and I finally get what all the fuss is about. If you haven't been yet, go to Venice.
The next day we headed back into Venice for a day of sightseeing, we visited the Peggy Guggenheim collection, took a ride in a Gondola along the Grand Canal and just wandered around marvelling at all the buildings, there is so much to see and do in this city of marble palaces built on the water that despite the weather turning on us we persevered with sightseeing in the rain! Luckily for us our campsite had spa facilities so we headed back there for a swim and to warm up in the sauna after a day of sightseeing, who says camping isn't glamourous?
The Italian Dolomites
After two nights in Venice we headed off to the Dolomites which took a lot longer than expected to drive there so we arrived in the evening and camped just outside the campsite because it was closed when we got there. The next day we woke up to sunshine and got a spot at the beautiful Camping Seiser Alm/ Alpe di Siusi for a couple of nights. The view from our campervan was just breath taking, it's impossible not to wake up happy with this much beauty and fresh air around you.
There are so many different hiking routes you can do throughout the Dolomites and we got a map from the reception and headed straight off for our first hike which was a fairly mild hike and not too strenuous but very scenic. Along the way there are various restaurants and cafes to stop and refuel, I was so happy to find at the first place we stopped for lunch they had Kaiserschmarren on the menu, after weeks of pizza and pasta and Italian food I was so ready for a change in menu and my love of Austrian pancakes with raisins made this first stop all the better! We hiked up a bit higher in the afternoon and stopped for coffee in a beautiful lodge restaurant the kind you stop off at for hot chocolate whilst skiing. We hiked our way back down through the stunning nature of the Dolomites filled with mountains, lakes and wildlife everywhere you look. We went for a quick swim in the outdoor pool back at the campsite before cooking dinner in the campervan and enjoying our very own Dolomites view beside our van.
Another day another hike, with so much beauty to see we had to do at least one more hiking trail before we left so we checked out of our campsite and parked the van up near the start of another trail that we were keen to do, the Ums Umes to Schlern Sciliar dolomites trek. This one was a lot more technical than our easy breezy trail we had done the previous day but after sweating our way up to the much needed restaurant we realised just how worthwhile it had all been. I can't even tell you how beautiful this place is, we can give you some idea in the pictures but if you like walking and hiking, do yourself a favour and book yourself a week or so in the Dolomites, we definitely plan to come back and see and do more of these beautiful hikes, the food at this restaurant was so good, it was run by an Austrian family but being in such a remote location they only take cash, we just about had enough on us to get 2 meals and a drink, but learn from our almost disastrous mistake when trekking in the Dolomites make sure you have some euros on you to keep yourself refuelled.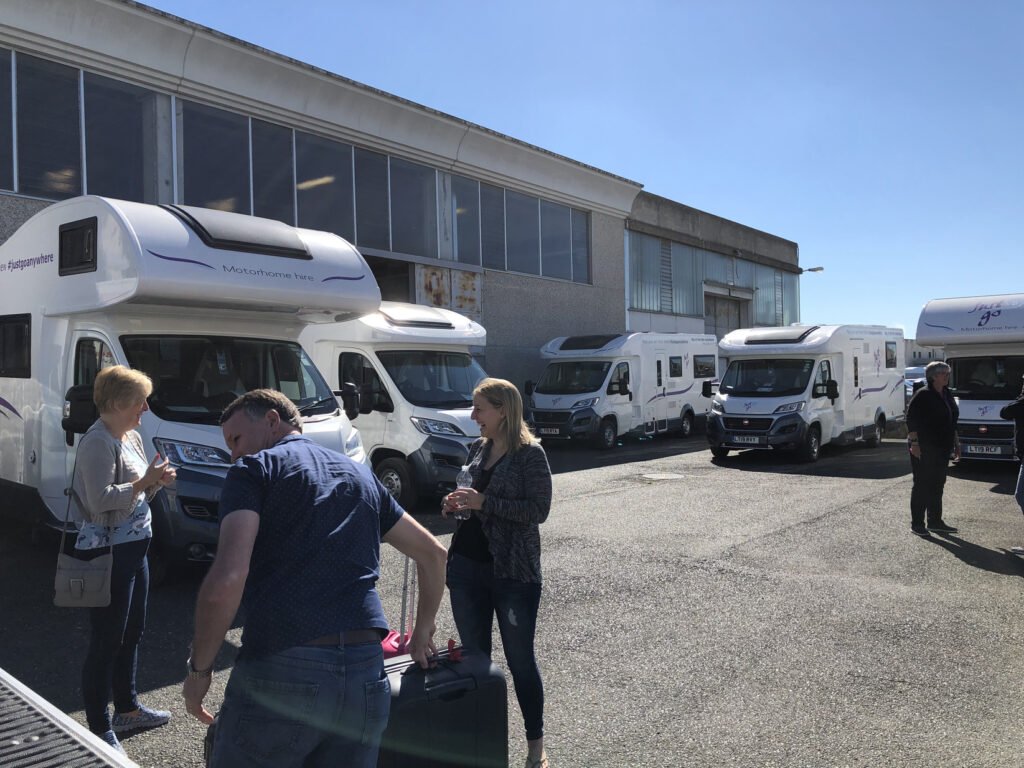 Germany & Liechtenstein
After our second hike in the Dolomites we got back in the campervan and drove through Austria, it was so weird driving along roads and seeing ski lifts stationery over rolling hills with no snow to ski on. The drive was scenic as ever and our next stop was in Germany where we planned to park in an overnight parking place for cars and campervans. It was literally at the foot of an absolutely breath-taking castle – Neuschwanstein. This castle is perched up high at the top of a hill and surrounded by lush green views. We arrived early evening and got to see the sunset over this beautiful castle which was exactly what we came for. We walked back to the van and had dinner and some much-needed sleep.
The next day we drove through Bavaria and stopped along the way for lunch whilst watching some light aircraft land and take off in the field next to us, from there we drove through Switzerland for about 10 minutes which cost us 40euros for the privilege thanks to border control forcing us to purchase a sticker. Our next country was Liechtenstein where we spent the afternoon in the sunshine and drove through this tiny little country before parking the van up and walking up the trail towards Gutenburg Castle.
The scenery in Liechtenstein is very green and mountainous and despite it being so warm and sunny you could still see snow topping the peaks of the mountains in the distance. After spending the afternoon in this tiny but very scenic country we then drove to Saarbrucken where we arrived so late, we actually drove the campervan into a Mcdonalds car park and managed to get it parked in a space so we could go in for dinner. The Vegan burger in this McDonalds was so good (they don't have these in the UK yet!) We parked the van up in a random carpark, there were a couple other campervans there so we figured we'd be ok and as there were no campsites around, we stayed there the night.
Luxembourg
We arrived in Luxembourg early the next morning as it took less than two hours to drive there, we got parked up for the day in Glacis Square and set off on foot to explore this country in the sunshine. First stop was a coffee before taking a walk-through Parc de Ville to get into the centre. The pavements were all decorated in chalk throughout the park with pro vegan comments and artwork, there had been a protest in the park a few days earlier and the colourful artwork made some really great reading as we made our way through.
As we arrived into the main centre, we passed these little shopping buses that were rainbow coloured that just shuttled shoppers around the city, there was music playing in the main square as the Luxembourg marathon was on that day so the support festival was in full swing. We did some shopping whilst we were there as it's a really great place to shop before sitting down to some really fresh and tasty food in one of the restaurants along the main square, we got a table outside so we could enjoy the sunshine and see the festival. We spent the afternoon sightseeing the buildings in Luxembourg have quite a gothic feel to them despite the place actually feeling very modern. The Cathedrale Notre-Dame is spectacular and is just a short walk from the centre. This country felt incredibly vibrant and a really happy place to be, we really wish we could've stayed for longer than one day but we will definitely be back there for a long weekend and hopefully some more shopping.
France
After spending the day in Luxembourg we made our way over to a campsite near Calais in France. The four hour drive took us through Belgium to get there but other than driving through we really didn't stop and see it much other than from the windows of the campervan. We arrived in time for dinner at our final campsite and final country of the trip, we stayed the night and even had time for a swim in the outdoor pool at our campsite the following morning before we had to make our way over to the ferry which took us back to Dover in England, we then drove the camper van back to our house, unloaded all our stuff including all the wine and goodies we had collected along the way because we had a whole van to fill and didn't need to get a flight home. Our first ever experience of being in a campervan was a huge success, we saw so much and the luxury of having your own little home from home with you wherever you go is really convenient, especially having your own fridge and bathroom when you're on the road for hours at a time. We loved exploring the world this way and would definitely do it again.
Tide Knot Travellers Tips & Facts
– If driving around Europe in a campervan beware, the toll booths are designed for car or lorry height, as a camper you will have to hang right out of the window to get your toll sorted.
– The weather changes drastically along with the topography of the land which is beautiful but pack for all weathers.