Currency – Philippine Peso
Climate – November – hot, sunny and tropical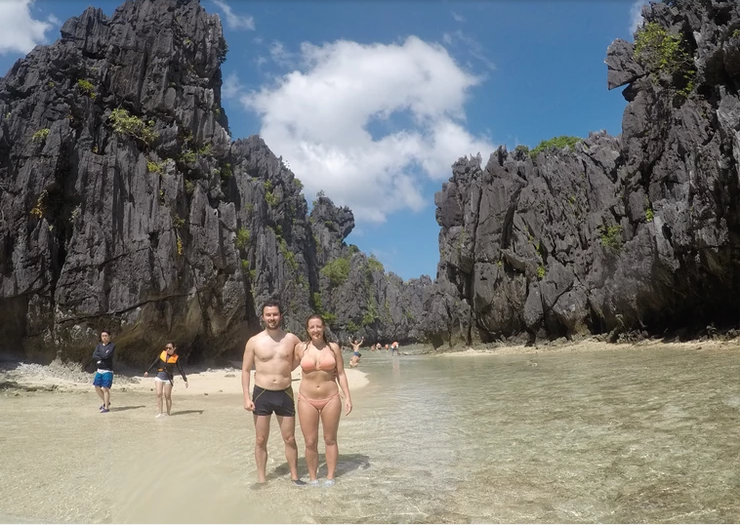 Donsol
After being saved by our Uber driver in Hong Kong we made it to the airport in time and we flew to Manila which is the capital of the Philippines and the main airport where a lot of flights around the Philippines leave from. We took another flight straight out from Manila to Legazpi, landing in Legazpi we flew past Mayon Volcano which was amazing to see on our decent. Straight off the plane we squeezed our 2 bags and ourselves into a trike which is a popular mode of transport in the Philippines, it's basically a moped with a side car attached, we strapped our bags on top and sat inside for a 10 minute journey. The trike driver took us to the jeepney which is a small Filipino bus. We took this bus for about 3 hours, these tiny buses are not the comfiest as the ceiling is low and you're crammed in with locals as it stopped in a few places so we had to manoeuvre our bags and ourselves a few times to allow people on and off. Once we arrived in Donsol we were then met by a member of staff from our resort who was there to pick us up in his trike and take us to our resort, this trike was a bit nicer than the first trike we had been on but it was still tiny. Bags strapped on top again and the two of cosied up inside, despite being very tired by this point, this is not the type of journey you can fall asleep on! We finally made it to our resort after a day of travelling on various new (to us) modes of transport.

We were staying at Vitton resort for the next 3 nights and it was beautiful, peaceful and exactly what we needed after such a long journey. We checked into our room which was rustic and surrounded by nature; gekkos, hermit crabs on the pathways and wild dogs strolling around minding their own business as we walked through the gardens towards our room. It was late afternoon/early evening by this point so we made our way over to the pool and restaurant area for some dinner and to start planning our adventures for the next few days. The reason we had taken this crazy journey to be here in Donsol was because it is a bay in the Philippines where Whale sharks known as Butanding in Tagalog, arrive each year to feed on Plankton and Krill which is the main food source for these gentle giants. Each year between November and June the Butanding arrive to feed and birth their young. Despite us being here at the end of November there had not yet been any sightings of them this season so before dinner we booked to go on a dive in Manta bowl the next day instead of going out to look for them.

We went back to our room tired but excited for an early dive the next day, however Craig could not wait to test out the new drone we had just bought in Hong Kong so he took it out and managed to cut his finger pretty badly on the blades! This meant no dive for us the next day at all. We chose to just take it easy instead and spent the day at the resort enjoying the pool and beach and nursing Craig's finger (he couldn't get it wet whilst it healed). We did at least get to go on a boat tour that evening along the Donsol river and see the fireflies lighting up the bushes, it was crazy beautiful with no light pollution at all and our lovely tour guide was teaching us some more Tagalog along the journey. After a while of sailing around in the dark, Craig felt his foot hurting him, we shone a torch down as he lifted his foot up only to find a little crab clinging onto his big toe! He had slipped on the slippery concrete as we boarded the boat and his foot had dipped into the water luckily his flip flop had stayed in place but it turned out he had brought this little stow away into the boat with him. I found it all pretty hilarious! We got the little crab and put him back where he belonged before enjoying more firefly sights. We were able to catch the fireflies in our hands and see them glowing and flickering away before watching them fly back over to their group in the bushes. It was a really tranquil and beautiful way to spend the evening.

The next day we finally made it out to sea on a boat where we got to explore Donsol by day. We waded out to our own catamaran with our own crew and packed lunch ready to explore the sights. We headed off to San Miguel Island jumped off the boat and swam in the shallows with some black tip reef sharks, they were only baby ones and they were pretty shy but there were quite a few of them swimming around us in the crystal clear waters. We had lunch back on the catamaran and made our way over to Ticao Island where we stopped off to see the most incredible waterfall – Catandayagan Falls, fresh water falling from the land straight into the sea. We were lucky enough to be the only boat so we took our time swimming and exploring whist being sprayed with the fresh waterfall it was unlike anything we'd ever seen before – great job nature!

Back on the boat I put something into the tiny swing bin then noticed something looking up at me from inside, I lifted the lid and found there was a pigeon living inside. Craig and I asked the crew why a pigeon was in there, we felt mean as we'd all been putting stuff in there throughout the day. They were pretty relaxed and said he was their pet homing pigeon and he lives in there to protect him from the wind whilst the boat is moving and then they let him out for a little fly and swim.

We headed off to the next destination, this time carefully looking at the little swing bin pigeon as the wind speed picked up and one of the crew threw his shirt on top of the lid to stop it blowing away (aka prevent the pigeon losing the roof of his little makeshift house!) We did a bit of island hopping and jumped into some deeper water off the boat and although we didn't have any dive gear we could still see so much just snorkelling as the water was so clear. We saw lots of little fish and a few banded sea crates before heading back to Donsol for dinner and getting ready to head off early the next day.

Tide Knot Travellers Tips & Facts
– If your sole purpose for going to Donsol is to see Whale sharks, maybe go in January to increase the likelihood of them definitely being around, as in our case by the end of November they hadn't arrived yet, there's still other things to do but if that's your only reason for going go later.- Yes you could go to Oslob and have a much higher chance of seeing Whale Sharks all year round but we personally have moral issues with this because the whales don't naturally migrate there, they're lured in by fisherman and chased by their boats for tourism, the whale sharks are often hurt from the overcrowding and chasing.
Masbate and Cebu
We left our resort early the next morning to head off on a boat over to Masbate where we planned to catch a flight straight out of the tiny airport there over to Cebu. The trike driver dropped us at the port and boarded the ferry which was a smooth quick crossing over to Masbate. However, when we got off the ferry it was like another world, Masbate was so busy with shacks everywhere and seemed a lot more run down than anywhere else we had seen until this point, it was not a touristy area and we were the only non Philippinos there. We managed to get into another trike (a really battered one this time, that conked out mid journey and the guy took ages to re start it, it was like whacky races going through sneaky shortcuts racing us to the airport!) We went through two wired fence security gates and stood outside a large wooden structure that was the airport. The security gates shut and were manned by armed security guards so we were safe but we couldn't actually get inside the airport yet as our flight wasn't until about 3pm and it was around 10am so the doors were closed and didn't open until 1.30pm.

We stood there with all our bags just the two of us, looking at the gates and seeing the hustle and bustle around the shacks beyond it and just had to sit and wait there outside in the heat, no airport lounge or even café in this place! After a while another passenger joined us in our wait and unlike most of the Philippinos in Masbate he actually spoke English so we were able to have a conversation, he was a nice guy from Cebu and this had been his first ever visit to Masbate too, he said Masbate is very different to Cebu and a much less affluent city, which we were pleased to hear and couldn't wait to board the plane and get out safely. We finally got inside the airport, checked our bags in and sat by the window and watched our plane come in, only it circled twice then left! The tail wind was too strong so the flight got cancelled. We were given our bags back and sent back outside the airport and the doors shut saying we could get a flight tomorrow at 9am.

Great, we were stuck here in a place dubbed 'The wild East of the Philippines' by Lonely Planet and a lawless city by Google. The relative lack of infrastructure on this island made us wonder where we would be able to sleep over night or how we would communicate with anyone to even arrange this, our Tagalog is limited at best. Craig had gone to speak to someone official to figure something out and I got chatting to the same guy (Ronnie) that we had been speaking to earlier, another Philippino lady overheard us speaking in English, understanding our fears she insisted we must go and stay with her for the night.

It was very kind of her but I couldn't help but wonder what type of housing there was on this island given that we had travelled through it on trike and seen nothing but wooden shacks and not a single proper building. This lovely lady (Maggie) turned out to be one of the wealthier inhabitants of the island (hence being able to afford flights) and told us how she was the head mistress of the school up the road and that she was flying to Cebu to visit her daughter who was studying there. Maggie said we could stay in her daughters' room as it's vacant and that she and her husband would bring us all (including Ronnie) back to the airport the following morning to all get the flight at 9am. I thanked her and found Craig to tell him, the next thing she spoke to someone on the streets, two trikes arrived and we were in one of them following her to her house.
The trike journey was quite long as we had to go quite far out from the main busy part of the city, it was a little scary not really knowing what was going on but we had no choice but to sort of go with it and hope. Luckily we eventually saw some infrastructure/housing in the distance and we headed towards it in the trikes, phew! There was a small row of houses and thankfully Maggies trike stopped outside one and then ours did too. We got out and she welcomed us to her house which was a lovely 3 bed house and she had a cute little dog too. We took our bags up to the room and Ronnie had a separate room.
We took a shower and enjoyed sitting in the cool aircon after being outside in the heat at the airport all day. Maggie told us her husband would be home soon and that she had arranged for her friends who ran a catering business to cook some food for us and bring a feast over for her 'stow away guests' as she called us. She also told us that although Masbate does have it's problems and is a poor island, there are some beautiful parts to it, just unless you look Filipino you stand out in the city and everyone stares at you purely because they rarely see non Filipino faces as few of them can afford to even leave the island let alone the country.

It transpired that Maggies husband just happened to be the head of security for Masbate and had just about every gun you could imagine. He came home and we had a lovely traditional dinner of rice, chicken and seafood and we all got on so well. After dinner we went out onto the porch to have some drinks which was lovely although I found it pretty terrifying when the conversation of guns came about and then several guns including an AK47 were casually brought to the table. As we went to sleep that night we thanked our lucky stars that we had received such kindness and generosity from this lovely family and also of all the places to stay on this island we felt pretty secure knowing we'd ended up in the house of the head of security who had plenty of guns and the skills to use them if needed.

We woke up early the next morning before sunrise as Maggie and her husband wanted to show us some of the islands natural beauty before we left. We took a short drive and got on a tiny boat which took us over to a sandbar and watched the sunrise, it truly was beautiful and hard to believe we were on the same island with all the chaos of the city and ferry port only 7km away. We were so thankful to get to see this side of the Island and despite our initial fears about being stranded in Masbate we then felt so lucky to have found this place. If you find yourself in this part of the world head to Masbate, make your way out of the city quickly as there is nothing there and you do stand out a bit if you don't look Filipino, but head just outside of the city and there you'll find a nature park and Buntod Sandbar with so much diving and snorkelling, we wished we had longer to enjoy this treasure we had stumbled across but our flight did leave at 9am and this time we were on it!

The flight was not a direct flight to Cebu so we flew back to Manila with Ronnie and Maggie, whilst we were waiting for our connecting flight, they introduced us to Jolly Bee so we had our first ever Jolly Bee there in Manila airport! When we finally made it to Cebu late afternoon we said goodbye to Ronnie and Maggie and then boarded the public bus from the station. Unfortunately, the traffic in Cebu was awful due to an event that was taking place, meaning we didn't get out of the airport and onto the bus until gone 8pm, the journey from the airport should have been about 3 hours, but we arrived in Moalboal at 1.30am and got off the bus in the middle of the street in the dark. Luckily there were some guys with trikes and we got in one quickly and hoped he was taking us to the correct location as we disappeared off down a really dark back lane, thankfully we arrived at our resort, checked in and got to sleep.

The next day we woke up to a complete paradise, our resort Pescadores Seaview Suites was perched right on the edge of the sea, from the pool we stepped straight down and swam along the coral looking at starfish and beautiful scenery we even found a huge sea turtle that swam along with us for about an hour. It was a great way to get over all the craziness of the last few days seeing this gentle creature pecking away at the coral and elegantly gliding around. We booked massages for later that evening and booked to go on a dive the next day with a nearby dive school. A short walk from our resort there was a selection of bars and restaurants and we got talking to a Russian girl who told us all about El Nido and the tours there, we were excited as that was our next planned destination.
The next day someone from the dive centre came to pick us up on his motorbike so the three of us got on one bike with our fins and snorkel and headed of for the short ride to the dive centre. Diving in Moalboal was beautiful there is so much life there so close to the surface and again we didn't need a boat we just strolled straight in off the beach. We got back to our resort had lunch then spent the afternoon lounging in the sun and did some more snorkelling along the reefs. We had planned to visit Kawasan Falls whilst in Moalboal but having lost a day travelling we will have to return another time to visit. After dinner we packed our bags ready to head off the next day then relaxed into the night with a full body massage, our trip to Moalboal may have been one night shorter than planned but we fit a lot in and loved this little piece of paradise.
Tide Knot Travellers Tips & Facts
– Masbate is a busy Filipino port, but beyond that the beauty makes the trip so worthwhile.- When island hopping around the Philippines bear in mind that light aircraft can often be cancelled due to tailwinds and there are very few flights per day in these tiny airports so be prepared for potential schedule changes.- If visiting Cebu, just take a taxi straight from the airport to your hotel, as we learned the bus was slow, crowded and although cheaper we wouldn't choose that option again. We opted for a private taxi back to the airport and the higher price was so worth it.
Palawan – El Nido
We flew direct to El Nido from Cebu and had no issues with our flights and travel – yay! El Nido airport feels so tropical and luxurious, although maybe that was in comparison to some of the other places we had been. We got in a trike, the trikes here are much bigger and a lot nicer than the ones we had experienced on the other islands and when we arrived in the centre of El Nido we could definitely tell this place was a lot more touristy and had all the luxuries to go with it. It felt a lot safer walking around the streets here as we didn't stand out so much. El Nido has so many little clothes shops and coffee shops mixed in around the town and the main beachfront which is all sandwiched between towering limestone karst cliffs is littered with bars and restaurants catering to the tourists who are either relaxing in the bars or booking onto one of the standard island hopping tours which explains why there are so many catamarans lined up along the beachfront.
We had 4 days in El Nido and we spent our first full day on a scooter exploring the island and made our way over to Duli beach to do a bit of surfing. We had lunch before heading over to Nacpan beach which is 10 minutes back in the direction of El Nido, we wanted to see what all the fuss was about, Nacpan is a great beach and has lots of loungers and caters well to having a luxurious day at the beach. Duli was a bit quieter and more secluded, plus the surf is great at Duli so we actually preferred it there. It took us about an hour from El Nido to Duli beach on a scooter and we had to stop and pay a small fee to be let through a bamboo barrier to enter the beach track.

The next day we had booked to go diving with deep blue safari, we met early on the main beach and again waded out with our stuff in dry bags over to our boat. We did 3 dives in total and all were completely different. The first dive was a sheer deep cliff and we saw small jellyfish everywhere, surfacing straight up into them. The second dive was quite shallow and clear, Craig pointed something out and I swam straight over a bit too close to a sea crate for my liking! After lunch back on the boat, we did the third dive and saw a stone fish, blue spotted ray, lion fish and we swam up through a cave. After a day of diving we decided while at dinner that evening to book one of the Island-hopping and snorkelling tours in the Bacuit Archipelago, these tours are pretty standard and you can book them from any shop or hotel within El Nido.

The following day we waded out to our catamaran ready to start our island hopping tour and see some of these much talked about islands, we really loved seeing the beauty of these places; swimming through the tiny gap to reach secret beach and jumping off the boat to swim over to the rocks and make our way to hidden beach, having lunch on the boat over in Matinloc island. The only trouble with it all is that there are so many boats if you go on one of these tours that you're surrounded by lots of people in these places and below the surface of the water you can see the damage that all these boats are causing to the delicate reefs. If we go back to El nido we will not do one of those tours again, we would probably kayak and make our own route around at opposite times to the tours. The snorkelling around helicopter island and Tapuitan straight was simply amazing, there was a shelf that dropped down into the Baicuit Archipelago which was teaming with life. This is an incredible place and if it weren't for all the boats coming in that are hazardous for both the reef and swimmers it could be complete paradise.

After a busy tourist filled day, we decided that for our final full day in El Nido we'd hire another scooter and made our way over to Duli beach for a final surf and day of relaxation, we hardly saw anyone else all day which was amazing and what we needed ahead of the early start the next day and long journey back to the UK.

Tide Knot Travellers Tips & Facts
– If you don't mind following the crowds and want convenience then El Nido is great, but for those wanting to see the beauty without the crowds there are much quieter islands with just as much beauty to be seen with the luxury of peace and tranquillity.- If you're in El Nido and love to lounge on a sandy beach head to Nacpan, if you love to surf head to Duli.- Each of the islands we visited across the Philippines were completely different to one another, some felt very modern and had all the luxuries of modern day living and others had quite a basic way of life.- The Philippines is made up of 7641 islands (although this number changes with the sea level), so far we've visited 4 of them and can't wait to explore more, the natural beauty of these islands and the ocean connecting them is unlike anywhere we've ever been.