Currency – Dirhams
Climate – September – Desert Heat (crazy hot with no breeze)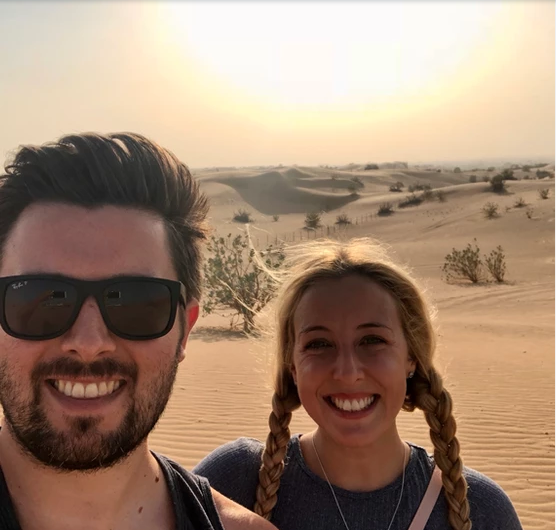 Arriving into the heat of Dubai hits you like a hot oven. We don't mind the heat too much but a little breeze would be nice but I guess that's what you get when you find yourselves in a city built in the desert.

We spent a week here to relax and switch off from our 9-5s and we wanted to see what this place was all about as it's talked about a lot and seems to be either loved or really disliked. We arrived mid-morning into Dubai which was late at night our time so we were very jetlagged straight away. We couldn't check into our room until 2pm so we slept on a lounger by the pool under shade (not that it's any cooler) until our room was ready and we checked in and took a proper nap, before heading out for the evening.

We stayed at the Movenpick hotel Jumeirah Lakes Towers which is adjacent to Dubai Marina and JBR, like all the hotels in Dubai this huge skyscraper building is a beautiful plush hotel with gym facilities, lovely rooftop pool area and the breakfast each morning was so good having a chef to make your eggs exactly how you want them every morning is such a great way to start the day. Throughout the week we went for drinks in various hotels and they all seem to be of a really high standard so in terms of hotels I don't think you can go too far wrong in Dubai, the standards over there are just really high.

A lot of hotels have beach clubs associated with them that you have free access to as a hotel guest, our hotel had a beach club over on the palm so we spent our first full day relaxing there which was a taxi ride away and a great way to ease ourselves into Dubai with a pool, great outdoor restaurant, loungers and a beach to stroll along. The beach club had free wifi so whilst we were there, we booked ourselves tickets for the next day to go to the Aquaventure water park over at the Atlantis Resort on the Palm Jumeirah. For adventure seekers we highly recommend this water park it was awesome and such a great way to fully shake away any stress and just have fun again. The Atlantis resort is just a stunning place to visit, the huge aquarium tanks that are placed around the hotel are just spectacular to see and there is so much do right there in that one resort that you could spend a week just there, we booked to go back later in the week for dinner at one of the restaurants there, the food and entire evening was incredible.
We booked a tour through our hotel to go out into the desert one evening for some Dune driving in 4×4 land cruisers before being taken to a Bedouin style camp for a bbq dinner and Arabian entertainment, it was an amazing way to spend the evening, the dune driving was so much fun but not for the feint hearted! Temperatures reached 50degrees before the sun went down, luckily the land cruisers have great air con, the evening temperature in the dessert was pleasant to sit and have dinner.

We spent most of our remaining days heading over to Jumeirah Beach Residence (JBR) which although it's close to our hotel we still needed a taxi to get there as it is too hot to walk anywhere in Dubai, we did the walk in the evenings a few times and were still absolutely cooked by the time we got to the bars and restaurants. Our advice is to hop from hotel air con, to taxi air con and straight to venue with air con – unless the venue is the beach – in which case just cool off in the sea which is more like bath water, but it helps. JBR beach, shops and restaurants is such a great place to be day or night. The restaurant staff bring you food and drinks over to your loungers on the beach and there are showers to rinse off at the end of the day it's all really well set up and you pay for a spot when you arrive and they give you water, shower access and loungers for the day plus some discounts at some restaurants. We had dinner along JBR a few times and headed over to Pure Sky lounge at the Hilton hotel as they have a rooftop bar that serves amazing cocktails and as Dubai is a dry country it's not easy to find alcohol but this rooftop bar has both incredible views and alcoholic cocktails.

Getting dressed up and going out in Dubai is great fun there are so many swanky places to go so don't forget to pack some of your favourite outfits as this is the place to shine. Heading over to downtown Dubai before sunset means you will get to see the view from the top of the Burj Khalifa going from day to night, this building is an absolutely stunning piece of architecture and is just fascinating to look at especially at night. Grab yourself a table at one of the restaurants outside and enjoy dinner with a show, the dancing water fountains display every 15 minutes and are completely mesmerizing, everyone just sort of stops what they're doing to enjoy the show, the view from the bridge is outstanding too, enjoy!

This is probably one of the most relaxing trips we have ever done, we think it's because we're not very good at staying still and have a constant desire to explore but the heat and luxury of Dubai causes you to slow down a bit which is great if you need to just relax, a week was perfect for us. It is a spectacular place but there is not a lot of natural beauty to see, of course it is essentially a dessert full of sand so not a lot of beauty can grow here. The manmade beauty is incredibly impressive though.

Tide Knot Travellers Tips & Facts
– Be sure to budget for taxi travel in Dubai as it's usually too hot to walk far at all, alternatively try the Careem app – the UAE version of Uber– Dubai is a dry country so although you can legally drink alcohol in some establishments it is illegal to be under the influence of alcohol in public